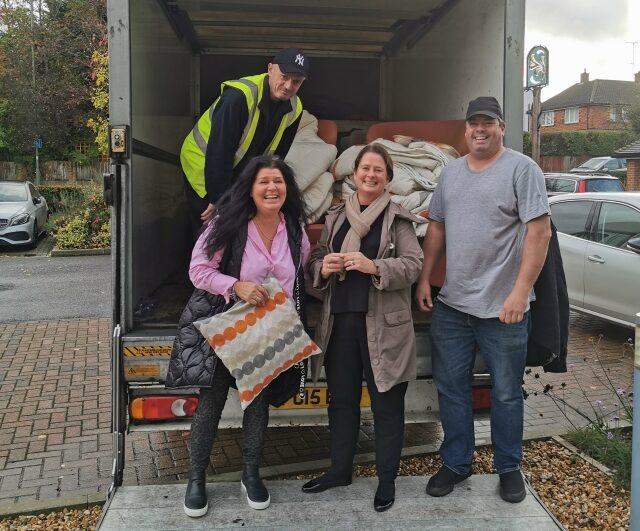 Renew, revamp, recycle!
As you might expect from a company steeped in a history of caring, ecological awareness – coupled with a sense of community engagement – is a social responsibility keenly felt by everyone in the Clavadel management team.
Those of you who have visited us recently will be aware of a refresh to all our furnishings and interiors – part of an ongoing determination to provide our guests with the best possible experience during their stay.
The results of the refit are gratifying and have already garnered a great deal of praise, but it did mean we had many items that were subsequently surplus to our requirements. However, such was the quality of the said items that they all remained in excellent, serviceable condition; so, the thought of them being consigned to landfill was simply too dreadful to contemplate.
Making plans
In consultation with our designers, Access 21 Interiors, it was decided that the obvious solution would be to recycle – and we knew just the person to contact to set the plan in motion: Robert at Sutton Community Projects.
By engaging Robert's network of seamstresses and upcyclers, all our excess furnishings could be successfully repurposed, resulting in some heart-warming stories of their onward journeys…
One couple, married for over 60 years and now receiving care at home, were unfortunate to need simultaneous hospitalisation, at which time their carers decided to make sure they had a cosy home to return to that would include some of our bed covers; a lady receiving cancer treatment has gratefully received one of our easy chairs; and a Surrey charity hub has put our curtains to good use by resizing them on behalf of those being assisted into new accommodation, with the spare material utilised to create attractive washbags.
Whether curtains, bedspreads or easy chairs, nothing has been wasted.
"We would like to say a huge thank-you to both Access 21 and The Clavadel for making this happen for us." – Robert, Sutton Community Projects
Well, we can honestly say it was our pleasure, Robert, and something we intend to factor into all our future refurbishment plans.