A centre of excellence...
Employing cutting-edge physiotherapy and hydrotherapy practise, our carefully appointed team of experienced health professionals will offer a bespoke care plan designed to restore your strength and mobility at the earliest opportunity.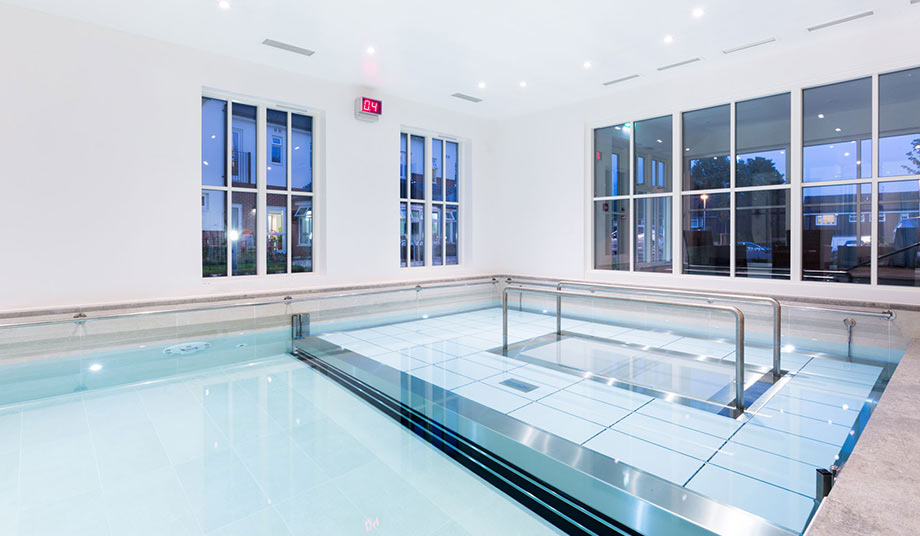 Recharge your batteries
Let us guide you through a personalised rehabilitation programme that includes up to two treatments per day – one physiotherapy and one hydrotherapy. *Please note Sunday is a reduced service.*
With a combined total of over 140 years of clinical expertise in orthopaedic, neurological, respiratory, hydro, and trauma-related rehabilitation therapies, our highly-skilled team are focussed on putting you back on the road to recovery ─ restoring your confidence and supporting you every step of the way.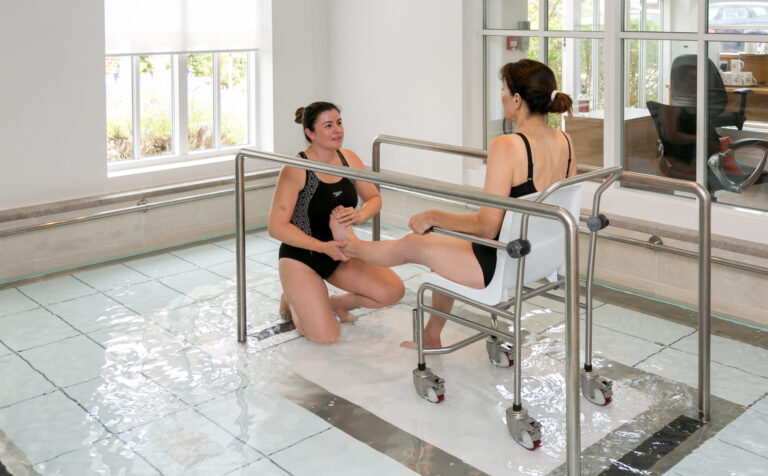 Physiotherapy
Selecting the right blend of physiotherapy treatments, in harness with the correct measure of complementary exercise, will be an important factor in your recovery.
In our dedicated physiotherapy suite with adjoining gym facility, you will find the latest in cutting-edge technology, enabling us to provide the very best in rehabilitative care.
The sophisticated HUR gym equipment works in gentle increments, employing air resistance technique to eliminate unpleasant and unproductive jarring, while the targeted GAME READY ice treatment ─ as used on elite athletes ─ may be utilised to reduce swelling where required.
Additionally, the bespoke outdoor gym space offers a further opportunity to measure progress. Supported by an experienced therapist, patients are guided through a set of achievable challenges comprising a series of slopes, humps, cobbles, uneven steps and a stability mat, representing any possible obstacles to mobility one may encounter on returning home and thereby helping to establish confidence and restore function.
Prehabilitation
Before having your surgery we would like to offer you a personal physiotherapy programme. This will help to prepare you for the surgery as well as reducing the time is takes to recover after surgery.
We can design a programme that focuses on strengthening the muscles around your joint to be operated on whilst also strengthening muscles in your hip, ankle and unaffected leg. Physiotherapy will also include the maintenance of the range of movement in your affected joint and ensuring that it is in an optimal condition to facilitate a more successful surgery.
Hydrotherapy pre operatively is an ideal medium to exercise in when your affected joint is very painful. The warm water off loads painful joints and allows movement and muscle strength to improve with less pain.
This will ensure you are in the best possible place to ensure you are well prepared prior to surgery. We recommend, where possible, this is started at least six weeks prior to your operation date.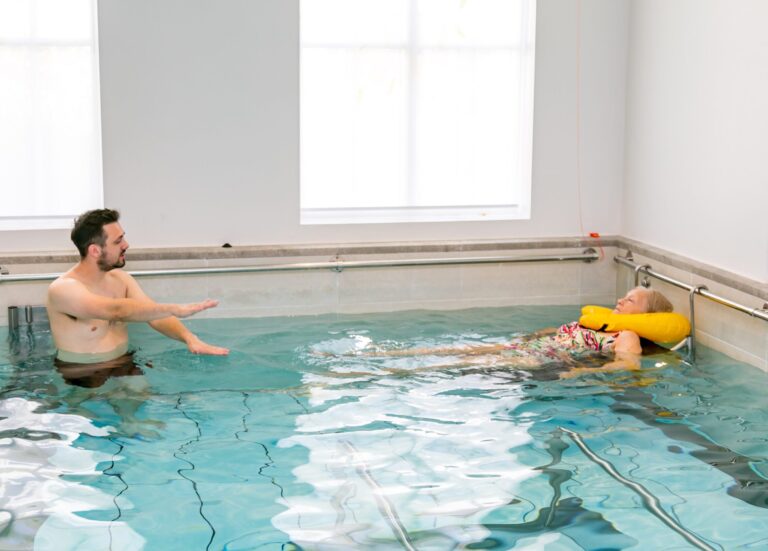 And then following inpatient treatment at The Clavadel, you are also welcome to return in an outpatient capacity to continue your treatment, should you wish. These sessions can be booked in blocks of six before you check out.
What are the benefits of Physiotherapy?
Ice treatment may be employed to reduce swelling.
Soft tissue massage can reduce post-operative muscle tightness.
A specially tailored exercise plan assists in the restoration of full joint range and muscle strength.
Walking practice encourages the body to return to correct patterns of walking, thereby reducing the risk of further injury and future pain.
Balance work helps to prevent the risk of falls.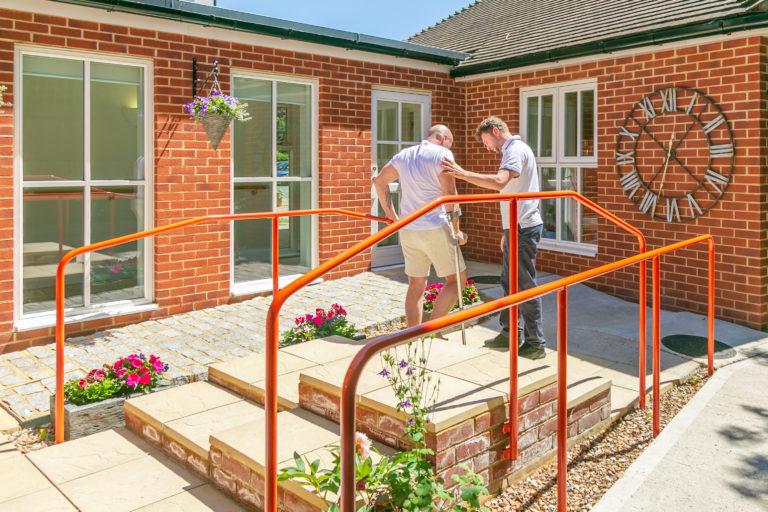 Hydrotherapy
Housed in our purpose-built treatment centre, we are proud to be able to offer a state-of-the-art hydrotherapy pool. Its underwater treadmill, parallel bars, and specialist massage jets help to stimulate movement and assist in recovering mobility.
The pool's fully adjustable floor may be raised and lowered, thereby enabling walk-in access at poolside level and avoiding the need for a hoist. By lowering the floor, even the tallest user can feel 'weightless' as the water relieves pressure on joints. This can then be adjusted as fitness levels improve.
Meanwhile, pool users may feel completely safe in the knowledge that an experienced hydrotherapist will accompany you throughout your treatment, to provide constant guidance, support and assistance.
What are the benefits of Hydrotherapy?
Warm water heated to 34° assists pain reduction and muscle spasm.
Reduced weight-bearing through the joints facilitates mobility resulting in an increased range of movements.
Muscles can be worked harder by employing water resistance.
Assisted muscle movement is achieved as a result of buoyancy.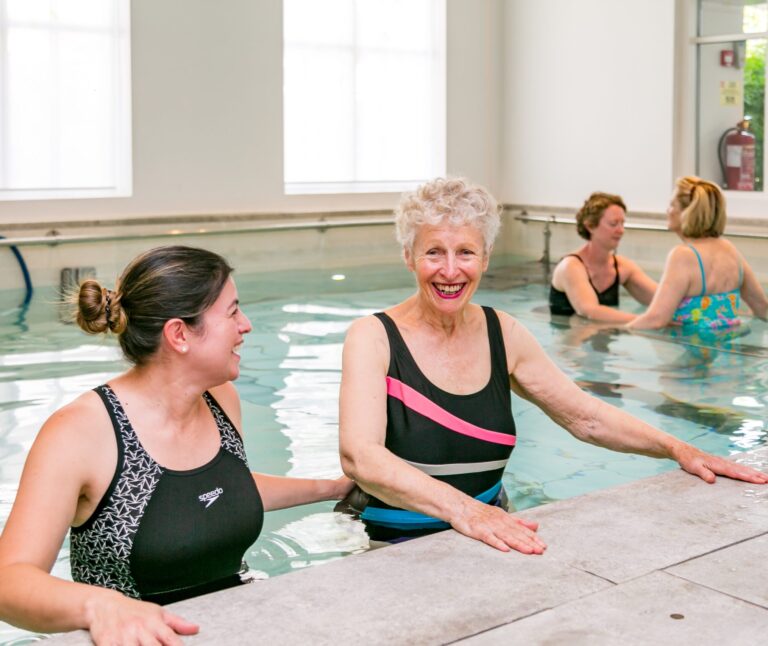 Game Ready
A combination of Rest, Ice, Compression and Elevation (RICE) has long been used to treat acute and chronic injury, and assist in the recovery and rehabilitation after Orthopaedic surgery. By simultaneously delivering both adjustable cold therapy and intermittent compression, the Game Ready system takes the strain out of the two most difficult-to-manage aspects of RICE.
The 'right stuff'
Developed using NASA space suit technology, professional sportspeople ─ such Olympic gold medallist Dame Kelly Holmes DBE ─ have experienced the effects of Game Ready first hand, and clinics, military rehabilitation centres and sporting organisations worldwide have come to rely on its positive outcomes.
Now our talented team of physiotherapists have another string to add to their bows, and our clients are coming to recognise why Game Ready is rapidly becoming indispensable on the journey back to good health.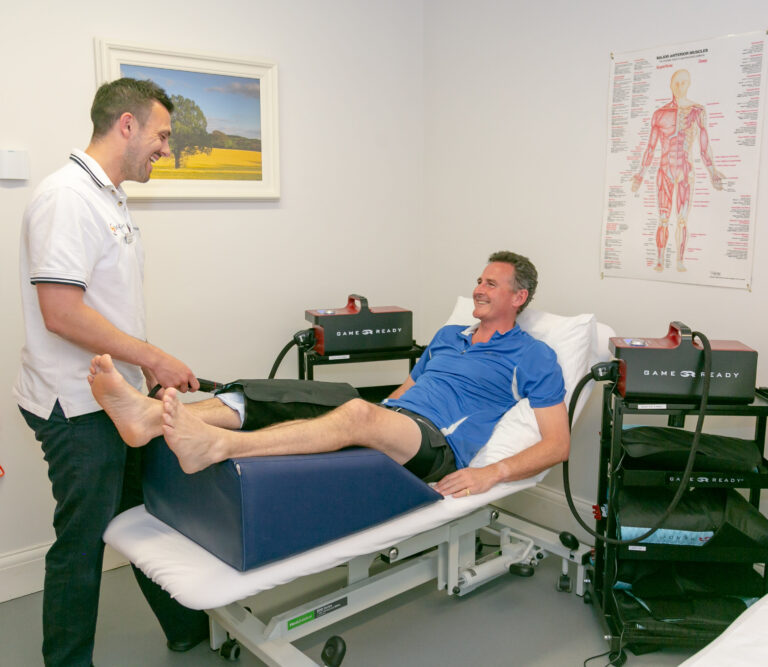 You will not regret spending a week in The Clavadel to aid your recovery from surgery or prolonged hospital stay.

Intensive tailored physiotherapy in and out of a custom-built hydrotherapy pool, attentive care, comfortable accommodation and wonderful food, all combine to speed up your recovery greatly. As a surgeon myself and a recent patient, I can't recommend it highly enough.
Daniel Robb MBBS MRCP FRCS, cardiothoracic surgeon
The Clavadel not only offers physical support and healing, but you are holistically healed as well.

In my Physiotherapy sessions I felt calm and aligned in mind, body and soul. After such major surgery and imbalance through medication, this was greatly needed and could not recommend The Clavadel more highly.

I will be letting everyone I know this is the place to come after any hip or knee surgery!
Diane Churchill-Getraer
Thank you for an absolutely brilliant stay in your 5 star recovery unit. Your physio and hydrotherapy facilities are excellent and your staff throughout and in every department are so very kind, welcoming and helpful.  I did so benefit from my stay.
I would like to say thank you to the nurses, physiotherapists and all staff for ensuring my steady improvement and comfort during my stay. As a result I have been able to manage by myself since my return with the help of my Zimmer frame, crutches and grab sticks. Please pass on my thanks to all involved.