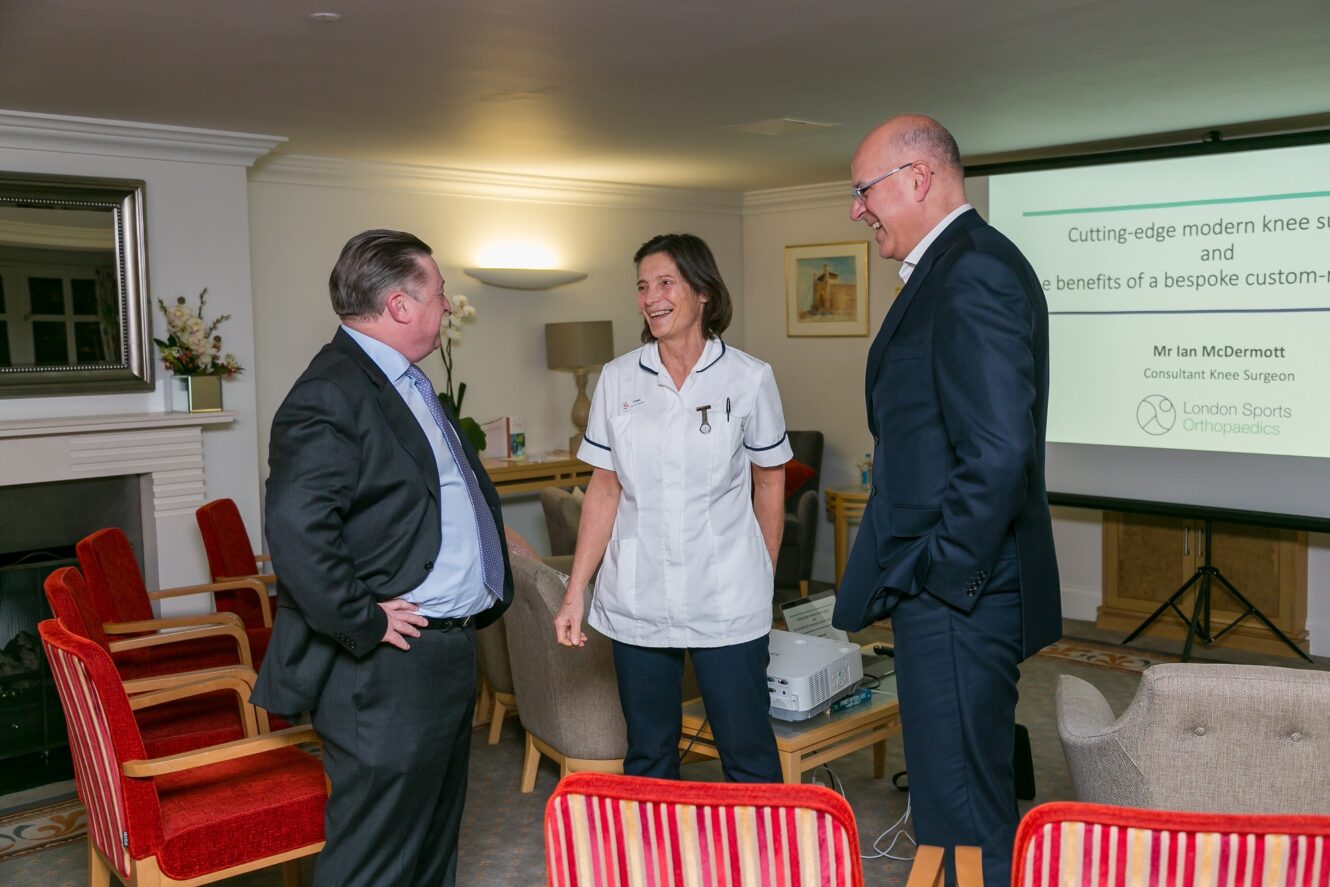 Modern knee surgery: understanding the options.
On Thursday February 9, 2023, we were pleased to host a comprehensive and informative talk from a leading consultant who discussed the challenges and potential options of those facing knee replacement surgery.
Entitled 'Cutting-edge modern knee surgery and the benefits of a bespoke custom-made knee', it focused on knee arthritis; viable non-surgical treatments; surgical alternatives to knee replacement; and the arguments for custom-made prostheses. Following the initial address, the well-attended event was further enhanced by a highly informative slideshow presented by Lead Physiotherapist at The Clavadel, Fiona Rushmer.
In outlining our experiential, knowledge-based approach to the patient journey, Fiona was able to advise on alternative treatments to surgery, where applicable. But for those present already committed to knee replacement, she also offered an informed insight into the role of prehabilitation ahead of surgery and its importance in delivering a successful outcome post operatively.
The Clavadel's reputation as a leading rehabilitation centre has been firmly established over many years. An excellent multi-disciplinary team are on hand 24 hours-a-day working hand-in-hand with an in-house team of specialist physiotherapists, and our state-of-the art hydrotherapy and gym areas provide the ideal therapeutic environment.
But, as Fiona elucidated upon in her address, the importance of prehab – of meeting patients and establishing the route to wellbeing they will eventually take – cannot be overstated. To date, The Clavadel has been the destination of choice for thousands in need of recuperation following an orthopaedic procedure and our exceptional standards are renowned, yet every patient's needs are unique and their journey will similarly be an individual one: something we never lose sight of.
It was a fascinating evening and one we hope to repeat in the future, should the opportunity arise. Meanwhile, we continue to offer the best in pre- and post-surgical clinical care to all those who rightly place their trust in us.