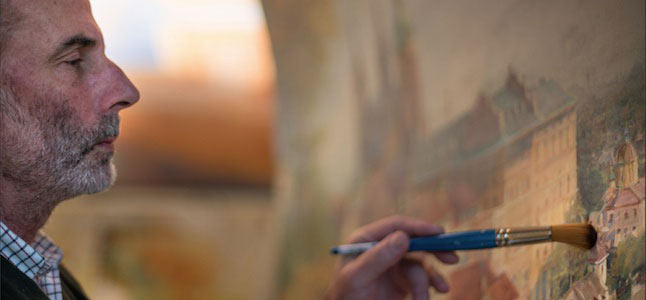 Royal seal of approval for artist
"[Alexander Cresswell] has an ability unique amongst his generation to capture both the appearance and the atmosphere of a building."
– HRH The Prince of Wales
Good art creates more than just mere decoration; when carefully chosen and sympathetically hung, it contributes to the overall well-being of the environment in which it's placed. That's why the work of Ewhurst resident and Geoghegan family friend Alexander Cresswell was the natural choice to grace the walls of The Clavadel and our sister facility The Old Rectory in Ewhurst.
The Clavadel is fortunate to have three of Alexander's works on display in our lounge area: Venice – Acqua Alta at the Church of La Misericordia, Khiva, the Old Walls, and Bokhara, Ark Fortress; whilst The Old Rectory proudly boasts S. Giorgio, Modica – Sicily and Villa Galletti at Bagheria – Sicily hung in prominent positions.
Born in Helsinki in 1957, Alexander Creswell is internationally recognised as being at the forefront of architectural painting. A skilled draughtsman, he is renowned for his technical skill and distinctive style as a watercolourist, combining subtle colouring with a reverence for natural light.
Largely self-taught and with a reputation for pushing the boundaries of the medium, Creswell has consistently fought for watercolour to be given the respect it deserves in the ranks of academic painting.
As Alexander says:
"Having been completely out of fashion in the 20th century… watercolour was dismissed as a medium only suitable for Victorian ladies, not a medium for the 'consideration of great art' as Sir Joshua Reynolds had proscribed in the 1770s.  So, not only challenging technically, but also deeply unfashionable."
The pioneer spirit
A pioneer at heart, Cresswell's series of 'Grand Scale' paintings rebel against the small-scale watercolour tradition. First exhibited in New York, they demonstrate technical skill as great as their size which has been described as 'nothing short of extraordinary'.
Counting the royal family amongst his many admirers, his work features in the portfolios of the many of the world's leading collectors, and commissions include those for HM The Queen, The Frick Museum and the Forbes Collection. The Geoghegan family are now proud to be part of this elite group.
Alexander Creswell continues to exhibit around the world. Meanwhile, as his stature as one of our leading artists continues to grow, everyone at The Clavadel will be following his progress with great interest.