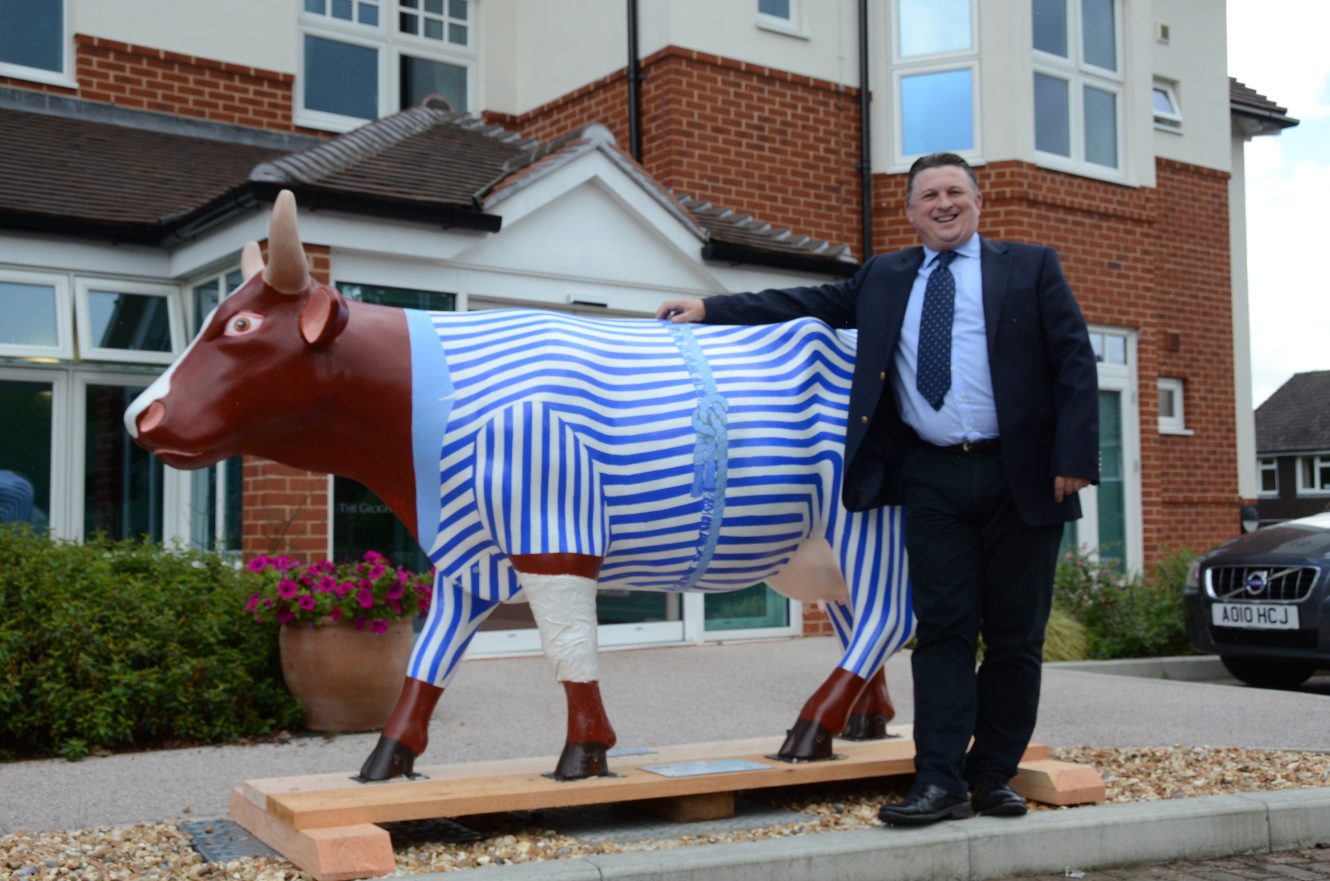 Injured cow checks in at The Clavadel
CowParade ─ the world's largest and most successful public art event – has helped to put the fun back into fundraising. Now the startling sight of colourfully decorated cows is a welcome and familiar sight, wherever you go.
Since first setting hooves down in Chicago in 1999, the cows have appeared in 79 cities across the globe from Stockholm to Sydney and Manchester to Moscow, raising $30million (well over £22million) for charitable organisations as a result of the auctions that follow each 'parade'.
To date, over 5,000 cows have been created with the participation of more than 10,000 artists worldwide, leaving a creative impact and charitable legacy that continues to grow.
Determined to milk a great idea (sorry), it was Surrey Hills Enterprises (SHE) who were responsible for bringing the CowParade to Surrey .
Local companies, schools, and private individuals were invited to sponsor a life-sized cow sculpture and choose an artist to help 'bring it to life'. In addition, sponsors could elect a charity close to their heart as the beneficiary of 50% of funds raised at auction from the sale of their cows.
And that's where the moo-ving journey (sorry, again) of our very own 'Convalescing Cow' begins…
A vision in pyjamas
Having seen the work of artist Peter Sampson, who had already conceived of a reclining cow in striped pyjamas, an idea started to form.
Says Managing Director, and visionary behind The Clavadel, Charles Geoghegan:
"I saw the design and thought of our patients and wondered whether this could be adapted to show a little of what we do here. Peter helped me change the design, and I think has come up with a brilliant example of an injured cow coming to receive rehab."
By the summer of 2016, the bovine beauties had begun their silent grazing across the length and breadth of the county, adorning hillsides, schools, farms, town centres and ─ in our case ─ a new post-operative rehabilitation centre in leafy Guildford: The Clavadel.
Following judging, the 'livestock' sales duly got under way with all cows proudly 'paraded' before potential future owners. A principal event took place at Sandown Park, Esher, where we successfully bid on our very own Convalescing Cow. This was later followed by a black tie, gala evening at Hampton Court Palace in November 2016, during which the top 20 'champion' cows ─ including pop artist Sir Peter Blake's 'Daisy' and 'Frontier' by acclaimed Surrey-based artist Alexander Cresswell ─ came under the hammer of Ewbanks Auctioneers.
But the story didn't end there…
Building a herd
Having given our cow a permanent home it seemed a shame to leave some of her chums behind, so we decided to bid on two more of our favourites, in order that each of our homes would have one of its own to enjoy.
Now 'Sally C', created by artist Vikki Gibson, is resplendent in the gardens of The Old Hall, Send, supporting the work of local charity The Community Foundation for Surrey. Whilst 'Moolissa', created by Thomas Duncan Bell and Shannon Morris with the graphic design and fashion students of Farnborough College of Technology, takes prime position at The Old Rectory, Ewhurst, in support of Surrey mental health charity Oakleaf.
In total, the CowParade Surrey auctions have raised £79,000 and £130,000 respectively for good causes, with funds being distributed between Surrey Hills Trust Fund and the 52 sponsors' chosen charities. Surrey Hills Trust Fund, in partnership with Community Foundation for Surrey, raises money to assist in the conservation and protection of the Surrey Hills as an area of outstanding natural beauty for generations to come.
Everyone here at The Geoghegan Group is proud to have been part of everything that CowParade Surrey achieved, and the purchase of our cow is now helping to support the work of Arthritis Research UK ─ the leading charity researching the treatment, prevention and cure of arthritis.
So any time you're passing, pause and appreciate 'the girls' in situ as we're sure they'll be glad of all the attention.