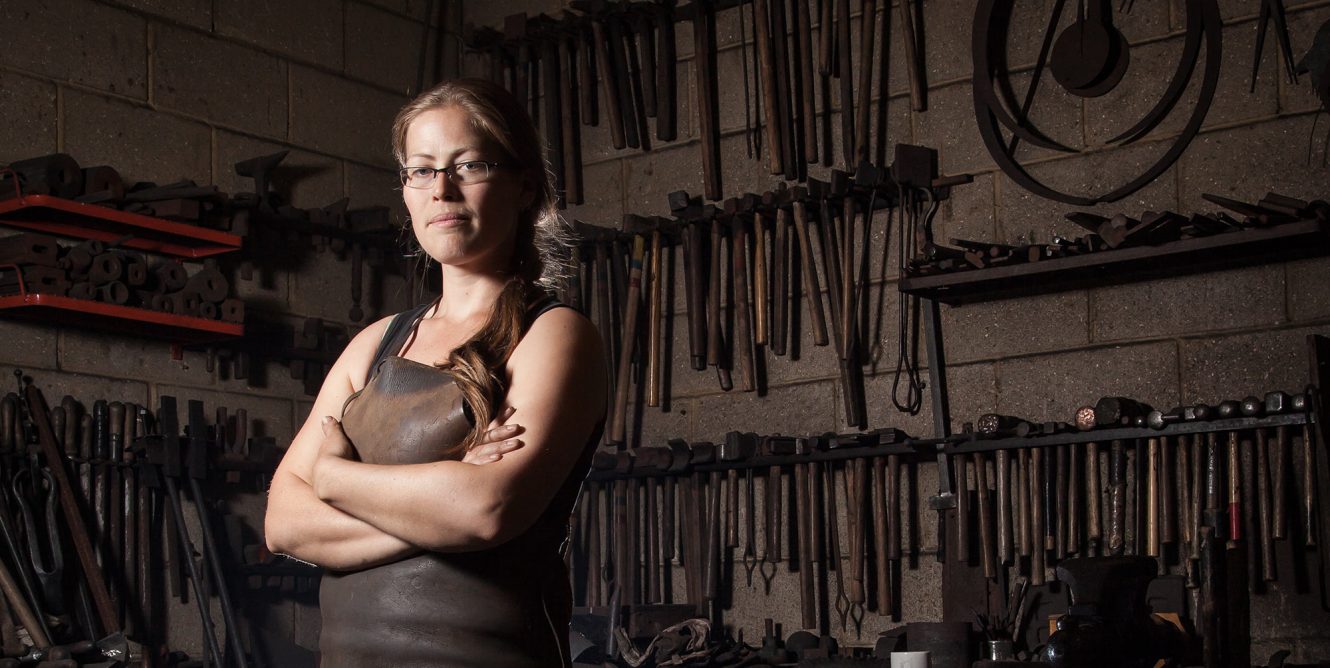 A sign of the times
Take a walk down Guildford's Epsom Road, and as you approach The Clavadel two things will spring immediately into view: a playful cow sculpture 'chewing the cud', and a distinctive, hand-forged pub-style sign bearing the Geoghegan Group logo, created by artisan blacksmith and Guildford resident Rebecca Knott.
Born into the artist blacksmithing scene, she first held a hammer when she was just three years old.
"I don't believe I was able to do much with it at that point," says Rebecca, "but the intrigue to know more was there."
By the age of seven she was operating a power hammer!
The big break
Once the blacksmithing fire was ignited, her hunger to explore the possibilities of the raw materials led to a spell at art college, before studying Fine Arts at University. But it was on leaving University that Lady Luck really smiled on the emerging artist.
Rebecca recalls:
"I got the opportunity to go up north and work with a Master Blacksmith… When home, I continued my learning with my father in his forge, alongside other smiths from around the world with diverse backgrounds. Most of this time was spent learning the skills that would give me the foundation I would need to develop my personal style and artistic sense."
In 2007 Rebecca established 'Rebecca Knott Artist Blacksmith', enabling her to take on her own commissions ─ from fire guards to lights and all manner of smaller, bespoke items in-between. She now offers unique handmade items to customers across the globe who value her inspiring and original designs.
Now we are delighted to count ourselves amongst her new-found admirers. Having become aware of Rebecca Knott's work, we were keen to have her design a contemporary looking sign for our new premises, The Clavadel, along with some numerals to adorn the walls to the driveway. The results were stunning ─ proudly announcing our arrival in an understated, yet distinctive, manner.
In summing up her approach to her work, Rebecca says: "My passion is stronger than ever and I find myself creating functional art that lasts generations."
And if the pieces that Rebecca Knott has created on behalf of The Clavadel are anything to go by, we're sure both the artist and her artwork will be around for many years to come.