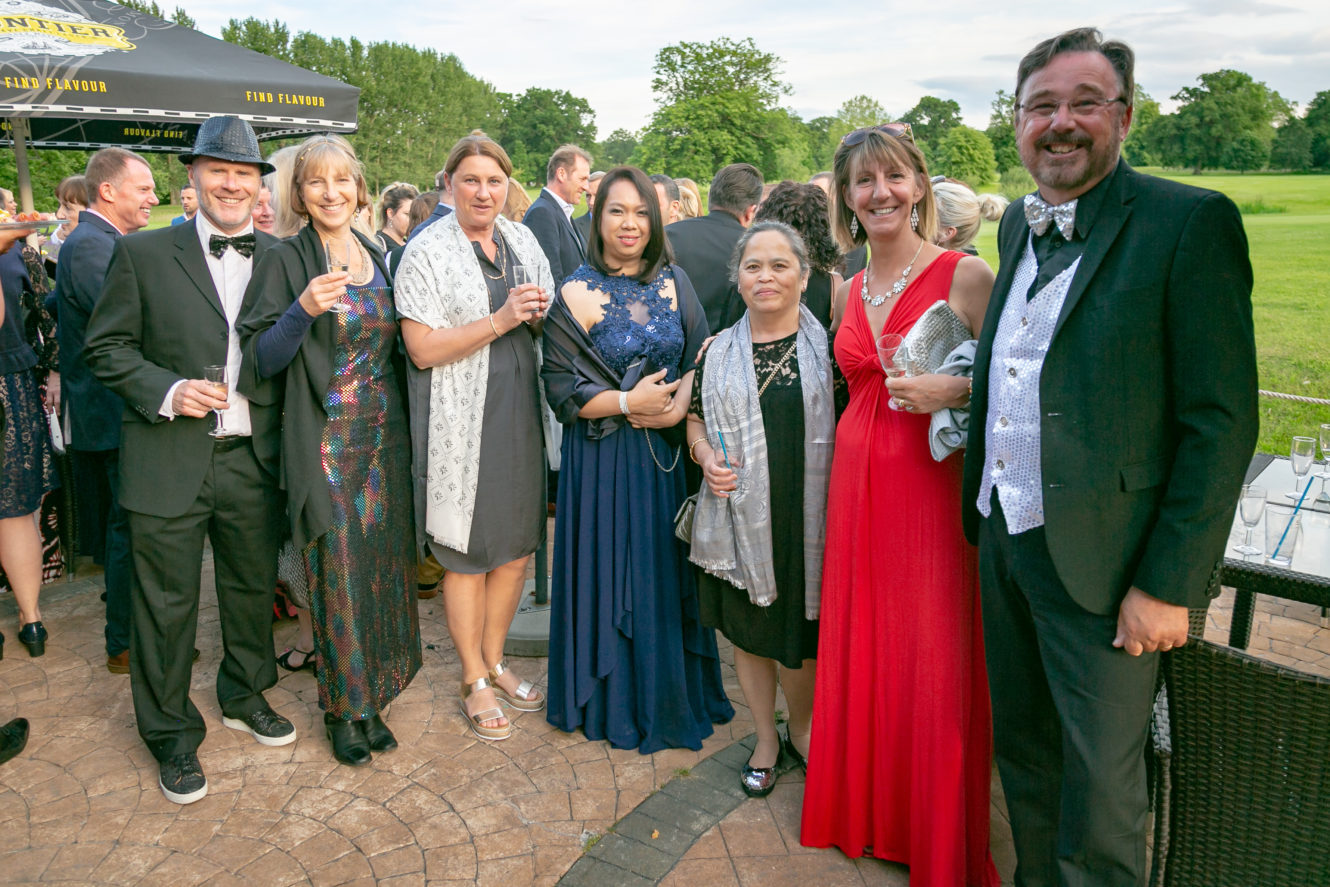 Puttin' on the Glitz
For one day a year, everyone at The Geoghegan Group gets the chance to let their hair down at the annual staff party where we reward our hard-working staff and recognise their extraordinary service and dedication.
This year, on Saturday, June 22nd, Clandon Regis Golf Club on the Epsom Road played host to the festivities as we celebrated two momentous anniversaries: five years since The Clavadel, Guildford welcomed its first patients and 30 years serving the good folk of Surrey for The Old Rectory, Ewhurst.
Staff from across all three sites (The Clavadel, The Old Rectory and The Old Hall) put their 'glad rags' on and gathered together for a fancy dress-themed evening of 'Glitz and Glamour'. With a sense of expectation in the air, proceedings got off to great start as guests were received with drinks and canapés on the terrace, whetting the appetite for the delicious buffet that was to follow later.
But whilst the occasion was primarily designed for a little high-spirited relaxation, it also provided the ideal opportunity to pay tribute to our exceptional staff with a series of long service awards. In total, 34 awards were presented to mark career milestones of 5, 10, 15, 20, 25 and 30 years, with two highly noteworthy recipients deserving a special mention: Heidi Cox and Alice Leeman.
Heidi has been with us for a quarter of a century. As the manager of The Old Hall, she is at the heart of what makes everything 'tick' and is highly respected by all who work with her and under her. Meanwhile, company stalwart Alice, 78, has racked up 30 years of dedicated service in a variety of roles and is a much-loved and appreciated colleague. Thank you, ladies; and thank you to all our recipients for your tireless devotion to duty.
Then, once the serious business of the evening had drawn to a close, it was time to take advantage of the eagerly anticipated entertainments programme. A caricaturist had been hard at work all evening creating amusing likenesses of the revellers as the night progressed; but what really got everyone excited was the 'cash grabber' challenge.
If you have ever seen television's The Crystal Maze, you will have an inkling of the fun that was to come as the 'competitors' entered the cash grabber booth and attempted to grab a handful of cash amongst the ensuing blizzard of banknotes! But the enjoyment didn't end there; live music from rock and pop covers band Echoes provided a high-octane soundtrack for partygoers to dance the night away 'til late.
And as the last dance was danced and cabs were called, everyone agreed it was a night to remember and vowed to meet and do it all again next year.