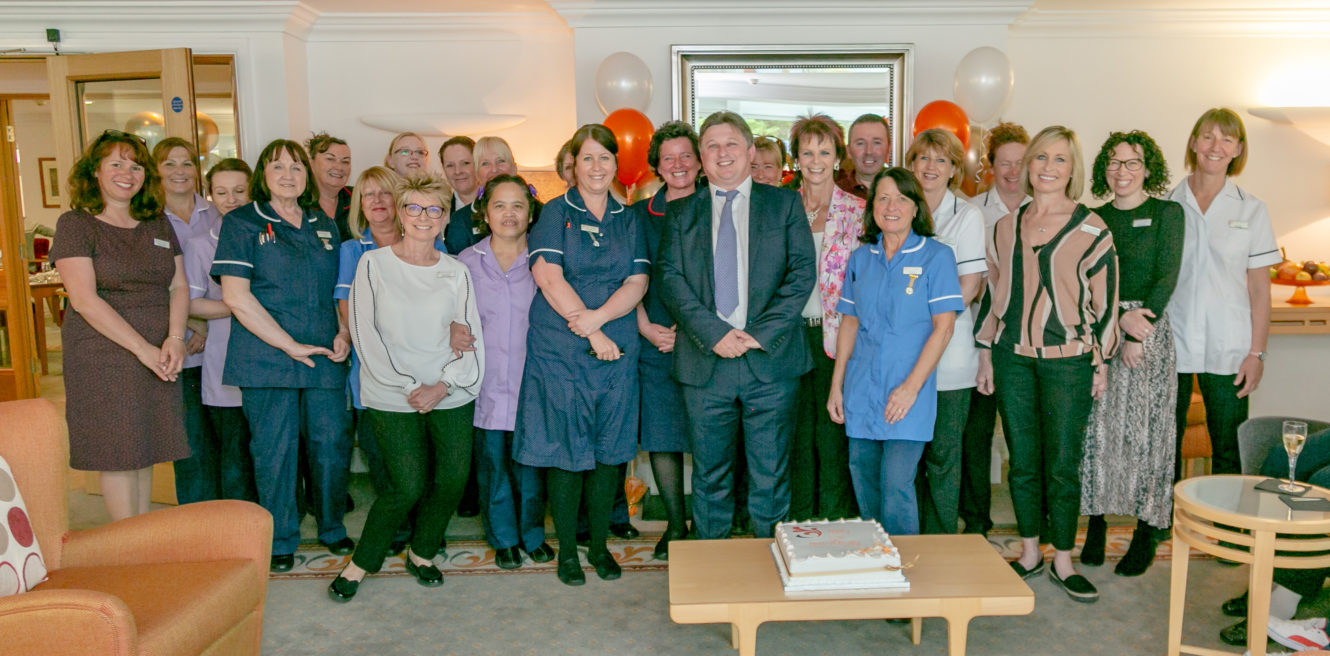 A very happy anniversary to us!
It seems like only yesterday we welcomed our first customers to The Clavadel, but Thursday, May 2, 2019 marked exactly five years since we first opened our doors to the public.
On our launch day in 2014, three lucky customers had the run of our newly constructed, purpose-built treatment centre with its state-of-the-art equipment, along with the undivided attentions of the 25 staff on duty that day (despite having to negotiate past the still incomplete reception area!).
With such fond memories still fresh in our minds, it seemed the perfect time for a small celebration in honour of such an auspicious occasion, and an opportunity to recognise all that has been achieved in such a short space of time.
The lounge was suitably decorated to welcome our guests, where approximately 50 people gathered to enjoy a drinks reception along with delicious canapes fresh from The Clavadel kitchen. Amongst those present were staff, patients, and MP for Guildford the Rt Hon. Anne Milton who was paying a return visit exactly five years to the day since she officiated at the opening ceremony in 2014.
Photo: Mr Geoghegan & Anne Milton
On the day we welcomed our 3,050th patient, Managing Director Charles Geoghegan opened proceedings with a short speech paying a warm tribute to all who have contributed to making The Clavadel the success story it undoubtedly is. In recognising the enormous team effort that goes into maintaining the high standards we have established, recognition was given to our excellent catering staff, the dedicated housekeeping team, talented receptionists, and the highly skilled nurses, carers and therapists – all of whom form the backbone of everything we do.
Delivering the vision
Everyone has had a vital part to play; but one person received a special mention for her influence in making the Clavadel vision a reality: Head of Physiotherapy, Helen Collier. Following their meeting some 19 years ago, it was Helen who passed on her knowledge, passion and enthusiasm for the role of physiotherapy and its importance in the rehabilitation process to Charles Geoghegan, thereby planting the seed of an idea that would later bear fruit.
Disappointed by the lack of high-quality rehabilitation facilities on offer to the wider public, Charles Geoghegan set about making his concept of a physio-led treatment centre employing cutting edge technology a reality, and The Clavadel launched on May 2, 2014. Now, five years on, it is an established part of Guildford life, and the go-to place for bespoke post-operative care.But we would be nowhere without our patients. We are immensely proud that so many continue to place their trust in us on a daily basis, and as a result we have so far helped over 3,000 people back on the road to recovery.
Photo: Mr & Mrs Geoghegan
Looking to the immediate future, plans are currently underway to further extend our GAME READY® ice therapy facilities, thereby ensuring patients are given the maximum opportunity for a speedy return to full mobility.
So, watch this space. The past five years may have flown by, but we plan to be here for many years to come, maintaining and building on our reputation as a centre of excellence.
Roll on our 10th anniversary!