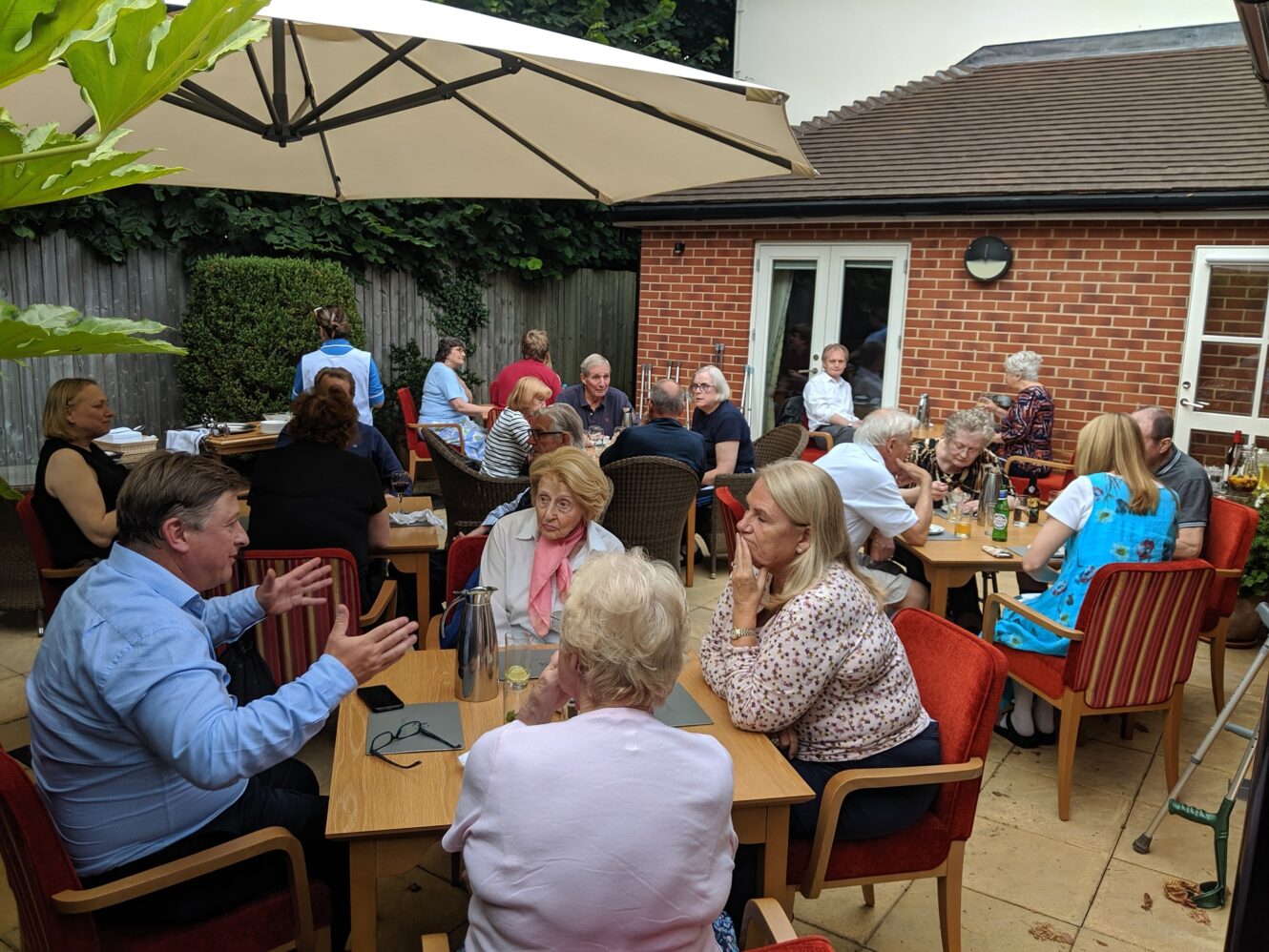 Dining Out
When it's a fine summer's day in England and you're feeling relaxed, what could be better than to set up the barbecue and invite good company round to share your happiness? Well, at The Clavadel we did just that, except in our case there was no need get on the phone as our friends were already here.
On Wednesday, July 10th, residents gathered together in the afternoon sun to take supper al fresco on the downstairs terrace, and what a wonderful time was had by all. To the gentle accompaniment of jazz music in the background, guests enjoyed a chilled glass of Pimm's or a refreshing elderflower cocktail as they sampled some mouth-watering barbecued food fresh from the Clavadel kitchen.
Amongst the flavoursome fare on offer were: John Murray sausages, burgers, marinated teriyaki chicken skewers, satay chicken, and skewered lamb and mango – all served with a selection of either a green salad, or orange, spring onion and olive salad. And for those with a sweet tooth, a delicious dessert of summer berries with cream or ice cream left a perfect taste of summer on the palate, complemented by coffee and mint chocolate.
Then, as the evening drew to a close, it turned out there was to be one last surprise up our sleeve: our multi-talented guest and services manager, and amateur magician, Giuseppe Ventimiglia conjured up some impromptu entertainment – dazzling the assembled audience with his sleight of hand, to the delight and amazement of all present.
It was lovely to take advantage of the balmy evenings and dine outside. Hopefully we can look forward to more of the same before the season is out, so we can do it all again; if not, we may have to call on Giuseppe to work a little of his magic on the weather!