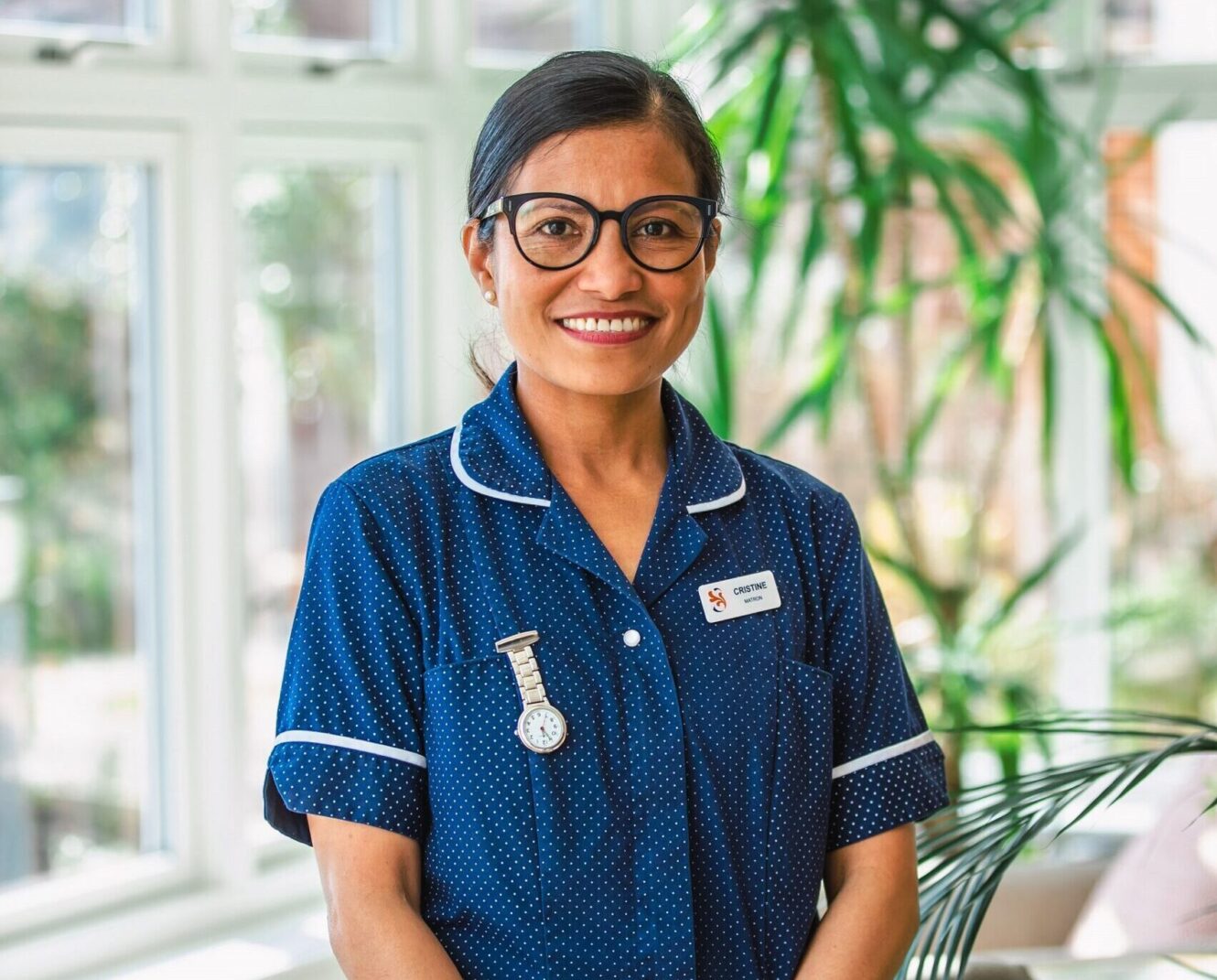 Behind the scenes: An ongoing series of glimpses into everyday life at The Clavadel
In this, the third in our series of 'behind the scenes' interviews, we spoke to our matron Cristine Farinas to understand what drives her to be so successful in her role at the forefront of nursing and clinical care provision here at The Clavadel…
As an experienced international nurse of more than 20 years' experience, perhaps you could start by telling us what initially drove you to dedicate your life to the caring professions?
As a young child growing up in the Philippines, I had innate compassion for others and wanted to help people in any way I could. In fact, I had a dream of becoming a UN ambassador, or a doctor so that I could build a free hospital for the less fortunate of my village. However, at that time, a medical degree could take up to ten years to complete and I was eager to put my desire for caring to practical use as soon as possible, so I opted for a career in nursing which meant I could finish university quicker.
I see… you were obviously highly motivated at an early age, so what prompted you to move to the UK from your home country?
Actually, my journey was simply a happy accident. I was initially planning a move to Canada and was visiting my old hospital for a reference when a recruiter approached me and asked if I would be willing to go to the UK instead. I took the information leaflet home and, on careful consideration, decided to change direction. It turned out to be the right decision… and the rest, as they say, is history.
It certainly is, and as a result you have an exemplary record of service within both the public and private sectors, so how does your time in the NHS compare with your experience of private nursing?
There is a marked difference in my experience gained between the two; however, the high standard of care that I provide to patients has remained consistent throughout. The NHS provided the foundation I needed to become a successful nurse in the UK and prepared me for the challenges of leadership. During my time in the NHS, the roles I undertook were more clinically focused, whereas in the private sector I have had the opportunity to utilise my inter-personal skills to inspire and motivate others in my position as a ward manager. Also, it was in private healthcare that I realised I had an ability to counsel that I believe has proved invaluable to staff and patients alike.
As you know, The Clavadel is one of the UK's leading providers of private nursing and rehabilitative care  ̶  what do you think sets us apart from our competitors?
It's many things. While patients primarily choose The Clavadel for the excellence of the rehab facilities on offer, what they find on arrival is a unique hybrid of both the hospital and hotel environments. Residents are immediately made to feel at ease and 'at home'. Furthermore, the holistic and tailored healthcare approach we provide ensures both their physical needs and mental well-being are addressed, enabling them to feel refreshed and invigorated on departure.
Well… you have already impressed your colleagues and our guests with your kindness, efficiency, and dedication to duty, but how do you hope to 'make your mark' at The Clavadel?
Firstly, thank you for those kind words. I am always striving to be the best I can be. I hope I will continue to be recognised for all those positive traits you mention, and many other things besides. For instance, I would like to be seen as someone who prioritises patients and their safety; who sets exacting standards for clinical practice and makes sure they are achievable; and who supports her staff by infusing them with positivity and knowledge throughout even the most challenging of situations. That way we can be sure we are always performing at our best.
Before we let you go… life can't all be about work, so perhaps you could give us an insight on how you relax outside of the working environment and 'take care' of yourself?
I am a very social person at heart and like to keep active. So, on my days off, I enjoy meeting up with friends for afternoon tea, a chat over coffee and croissants, or maybe brunch/lunch in a nice restaurant. But if I am not socialising, you will find me enjoying a run or attending the gym. And if I have any remaining downtime, I try and get my thoughts down in a personal blog or exercise my creative side by creating videos for my social media platforms.
It's been really interesting talking to you, Cristine. Thank you for taking the time out of your busy schedule to answer our questions.